"Pos-A-Check" Spline Gages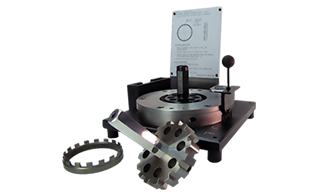 No more time and money wasted trying to cope with harassing problems caused by gages with poor repeatability! Our unique design allows the user of "Pos-A-Check" Spline Gages to arrive at exact measurements with full confidence and absolute trust.
The absence of human influence on measurements obtained with "Pos-A-Check" Gages results in accuracy never obtained before. In fact, gage repeatability studies have actually proven that these gages are capable of performance superior to that of any other competing product.
Versatile and easy to use in all applications, "Pos-A-Check" Gages are available with dial indicator or LVDT electronic readout, either of which can be quickly interchanged to make these gages easily adaptable to any method of Statistical Process Control.
Designed for absolute accuracy and ease of operation, "Pos-A-Check" Gages, insure that your parts are gaged in the same position and location.
Actuation of the gage head can be accomplished by either a mechanical trigger or an air cylinder.